Name: Lolves
Apperance: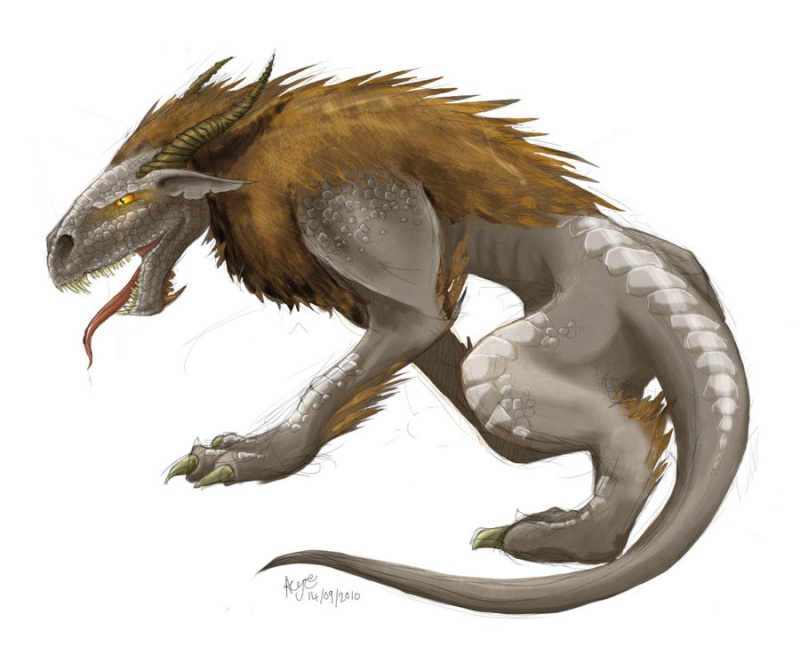 Physical Description: these creatures  have huge  powerful tales,
razor sharp claws, huge needle like teeth
,strong 3'ft long horns and  scale skin. very  agile.
Average Personality: Lolve, work in  packs, the is  alpha in  each pack, the alpha has a main like  lions. Alpha's then  to be  the biggest in the  pack, if  found by itself, a  lolf while generally  run  hide, only  really  attack if  backed into a corner. but  when in  a pack the Lolves will  surround  and  ware  down there  prey before  making the killing  move.
Locations: found  in the  woodlands on yorbian and azian continents. they aren't  very  rare.
Average Tier:0-3 singular, 8 per pack there  pack tier is 1-2
Name:  Bull goat
Apperance:
Physical Description: these herbivores are  quite huge and  bulky beast, framers have domesticated some of these for working on the  farm land.there not know for hostility, except  during  mating season. These beast are tough and  strong,very very durable.They are very  highly durable in  adverse weather conditions.
Average Personality: very  passive, herd like mentality, domesticated creatures, bar  mating season ofcourse
Locations: most headland and foot hills in the mayor continents.
Average Tier: 0-3, and  a herd 1-3
Name: reavers
Apperance:  
Physical Description: these  hard shell like  creature   live in  swamp land although  grow no more than 2'ft  high  are  renowned for there toxic fangs and claws, there long  tail is more powerful than most expect, they  tend  to  bite and use there  tail to wrap around the  limb once  they bite and  wrap it is  near impossible to  remove them yourself, they are known to  fear open flames.
Average Personality: carnivores that  live within swampland, they  will  attack  any thing  that approaches them recklessly, they  tend to  bite before  fleeing even  when  outnumbered.
Locations: most  swamplands
Average Tier: 1-0  or 1-1 per reaver
Name:
Apperance:
Physical Description:
Average Personality:
Locations:
Average Tier:
Name:
Apperance:
Physical Description:
Average Personality:
Locations:
Average Tier: